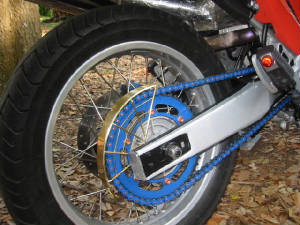 solid Black Walnut dash with light switch and extra warning lights. The clock has been replaced with a volt meter.
new solid Walnut and Alum. dash
The dash includes a volt meter where the clock was, a new clock in center, and a headlight swich.
pictures with new mirrors (from 65 vw)mounted foward
Brake and shift petal drilled
new right side muffler added and dechromed on purpose
engine detail include screen and heat sheilding
The air intake box has been modified; Insulated from exhaust heat and a ram cool air inlet added to the left side. The original snorkel was discarded and the hole filled in. These mods plus the duel exhaust necessitated larger main jets. It pulls evenly from idle to 8000 rpm, and still gets 50 mpg.